Description of the operative business
Dedicated to the development and distribution of premium, science-based health and wellness brands across the globe, Rapid Nutrition shares a wealth of award-winning products with consumers who are passionate about innovations that are "made by nature, refined by science." Rapid Nutrition's first-class development team matches the experience of its management team to keep both the company and consumers on top of the latest industry trends and developments, while aligning with industry leaders worldwide to deliver effective supplements and solutions.
Business Segment
Pharmaceuticals & Biotechnology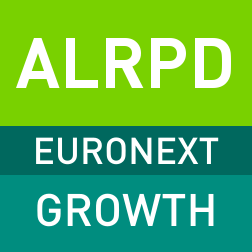 Corporate Information
Company:
Rapid Nutrition PLC
Date of Incorporation:
11 January 2012
Accounting Standards:
IFRS
End of Financial Year:
31 December

Names and functions of the Executive Board members or members of the Board of Management:

Mr Simon St Ledger - Director
Mr Shayne Kellow - Director
Ms Vesta Vanderbeken - Director

Essential Trading Data:
ISIN:
GB00BLG2TX24
TICKER:
ALRPD:FP/ RPNRF:OTCQB
Total number of shares or certificates:
162,553,823
Par Value:
GBP0.01
Shareholders' or Bearers' structure:
Ordinary shares

Significant Shareholders (5% or greater):
Investor Name
Percentage of Voting Rights
NEGMA
26.89%
EAM SPC
3.88%

Convertible Notes & Warrants:
Registered Notes in accordance with disclosure
Scroll to the right to see the table data.
Scroll to the right to see the table data.