Rapid Nutrition Unveils Innovative Solution: Personalised Vitamin Packs Tailored to Individual Health Needs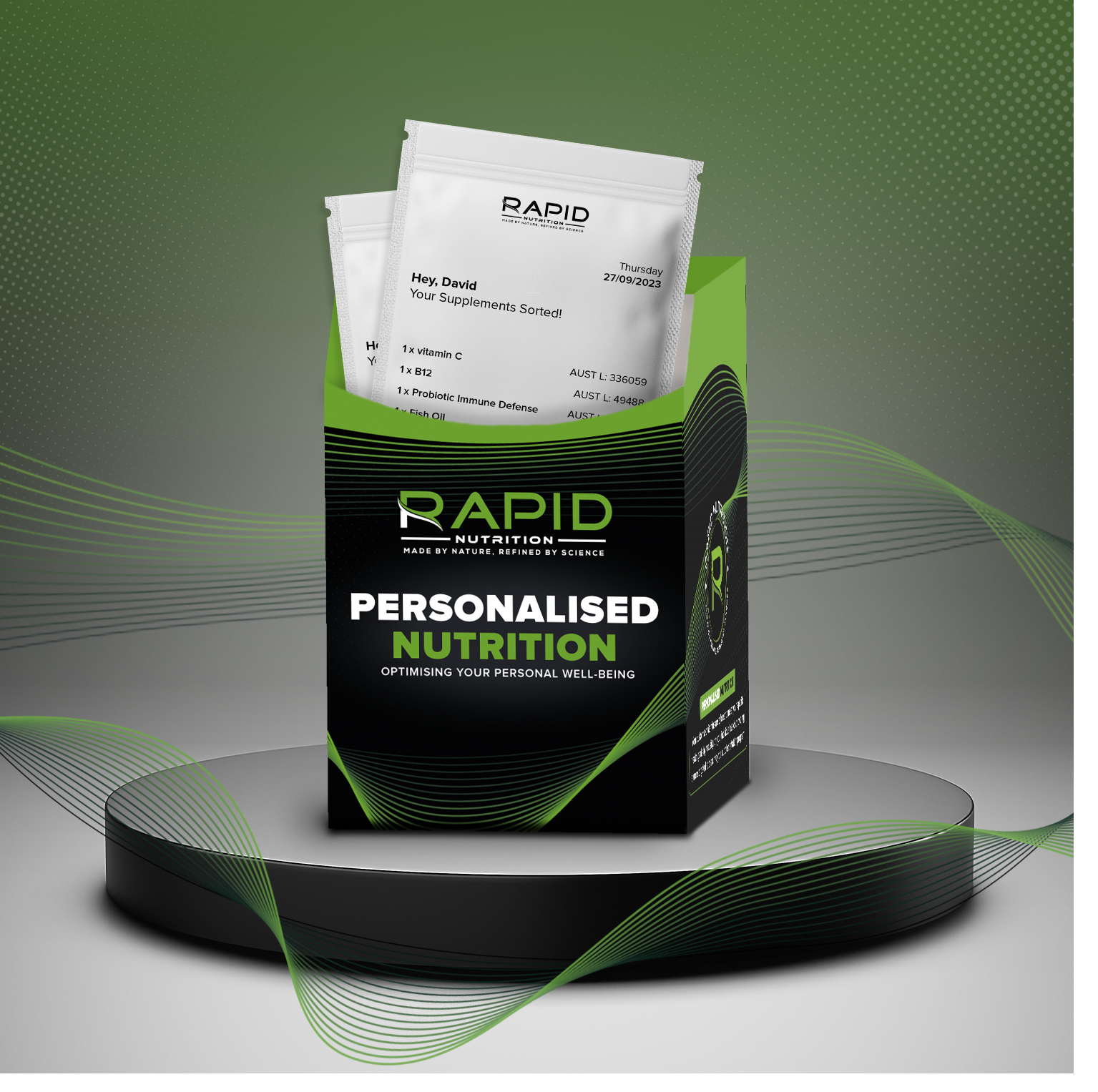 London, United Kingdom – 9 Aug 2023 - Rapid Nutrition PLC (Euronext Growth: ALRPD), a globally renowned health and wellness company, is proud to announce their up and coming launch of its innovative service, offering personalised vitamin packs customised to meet the unique health needs and goals of its customers. The new initiative, will empower individuals to take control of their well-being by receiving precisely tailored vitamin packs delivered directly to their doorsteps.
Recognising the increasing demand for personalised health solutions, Rapid Nutrition has developed a comprehensive approach to provide customers with optimised nutritional support. With the introduction of personalised vitamin packs, Rapid Nutrition is setting new standards by combining scientific research, cutting-edge technology, and customer-focused innovation.
The personalised vitamin packs are carefully formulated based on an individual's health profile, lifestyle factors, and specific goals. This unique service takes into account various aspects such as age, gender, activity level, dietary preferences, and potential nutrient deficiencies ensuring that each customer receives a precisely customised blend of vitamins, minerals, and other essential nutrients to support their overall well-being.
One of the key advantages of Rapid Nutrition's personalised vitamin packs is the convenience they offer. Customers will be able to easily access the service through Rapid Nutrition's user-friendly online platform. By completing a comprehensive health assessment, customers provide the necessary information to create their personalised vitamin packs. The packs are then prepared by Rapid Nutrition's team of experts in adherence to stringent quality standards and shipped directly to the customer's doorstep, ensuring a hassle-free experience.
"We are thrilled to be introducing personalised vitamin packs, as it aligns perfectly with our mission to provide superior nutrition and empower individuals to achieve their health goals," said Simon St Ledger, CEO at Rapid Nutrition. "By offering customised solutions, we aim to revolutionise the way people approach their nutritional needs. This exciting initiative showcases our commitment to innovation, scientific excellence, and customer-centricity."
Rapid Nutrition's personalised vitamin packs not only reflect the latest advancements in the field of nutrition but also prioritise sustainability. The company has taken significant measures to reduce waste and minimise environmental impact by utilising eco-friendly packaging materials. With this approach, Rapid Nutrition ensures that its commitment to the well-being of its customers goes hand in hand with a responsibility towards the planet.
Further information about Rapid Nutrition's personalised vitamin packs will be released in the coming weeks. In the meantime, to get started on your wellness journey, please visit www.rapid-nutrition.com
About Rapid Nutrition
Dedicated to the development and distribution of premium, science-based health and wellness brands across the globe, Rapid Nutrition shares a wealth of award-winning products with consumers who are passionate about innovations that are "made by nature, refined by science." Rapid Nutrition's first-class scientific team matches the experience of its management team to keep both the company and consumers on top of the latest industry trends and developments, while aligning with industry leaders worldwide to deliver effective supplements and solutions. Rapid Nutrition aims to be the supplier of choice globally by offering premium brands with the highest-quality ingredients to deliver maximum results.
For more information, please visit http://rnplc.com
Investor Relations Contact:
Disclaimer
This press release contains forward-looking statements made pursuant to the safe harbor provisions of the Private Securities Litigation Reform Act of 1995 and or otherwise that involve risks, uncertainties and assumptions that could cause Rapid Nutrition PLCs actual results and experience to differ materially from anticipated results and expectations expressed in these forward-looking statements. Rapid Nutrition PLC has in some cases identified forward-looking statements by using words such as "anticipates," "believes," "hopes," "estimates," "looks," "expects," "plans," "intends," "goal," "potential," "may," "suggest," and similar expressions. Rapid Nutrition PLC undertakes no obligation to release publicly the results of any revisions to any such forward-looking statements that may be made to reflect events or circumstances after the date of this press release or to reflect the occurrence of unanticipated events, except as required by applicable law or regulation.
This media information does not constitute an offer to sell, or a solicitation of an offer to buy, any securities. This information does not constitute an offering prospectus within the meaning within the meaning of Regulation (EU) 2017/1129 of the European Parliament and of the Council of 14 of June 2017 on the prospectus to be published when securities are offered to the public or admitted to trading on a regulated market, and repealing Directive 2003/71 or a listing prospectus within the meaning of the listing rules of the Euronext Exchange or OTC Markets. The media release is in accordance with International Reporting Standard: Rule 12g3-2(b) under the Securities Exchange Act ('Rule 12g3-2(b)') permits non-U.S. companies with securities listed primarily on a Qualified Foreign Exchange to make publicly available to U.S investors in English the same information that is made publicly available in their home countries as an alternative to SEC reporting Exchange Act Rule 12g3-2(b).